In our first post on the 30 Second Elevator Pitch we covered the importance of developing the pitch and in our second we addressed the requirement of ensuring the message is consistent across all of your presentation, proposal materials, communications and digital media.
In this post we want to show you a simple but highly effective way of carrying the message into your sales meetings that will help convert cold sales leads into warm opportunities and increase conversions while providing a strong point of difference between you and your competitors.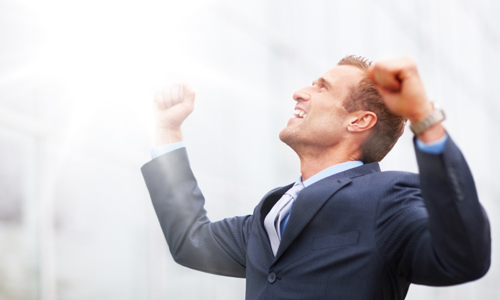 No matter what industry you're in, the cost of putting a sales person in front of a potential customer is high, so anything that increases the sales conversion rate is a good thing, Right!
Now it is not possible for us to provide an example that is applicable for everyone who reads this post given many of you will come from different industries. Instead, what I can do is tell you what we do and hope the example stimulates you to thinking about creating a concept applicable to your industry that could work for you.
Part of our message in our 30-second elevator pitch is about helping businesses flourish, simple message but one that resonates with our service and the outcomes our clients want to achieve from any marketing activity.
Our home page slider uses images of a plant growing in size with the message "Our Goal is to Create Marketing That Enables Businesses to FLOURISH and Realise Their True Potential".
Reinforcing the message
Using this simple message to cultivate and reinforce the concept of helping a business to flourish we send a small packet of seeds to prospective clients prior to any face to face call. The accompanying message centres on what is needed to allow a seed to grow and flourish and we parallel this with some business examples.
Building on the message
Post meeting and only in instances where we think there is a strong possibility of conversion we hand deliver a small desktop plant packaged with this same message that the potential client can put on their desk and see the results of nurturing the seed.
Reinforcing the message
Our follow-up meetings from this point forward reinforce the message.
Now admittedly we don't have any control over how well the plant is maintained and were the plant to wilt one might argue the message could be lost or work against the effectiveness of our sales approach. Not the case for us because the whole idea of any program designed to flourish is the process of nurturing, measuring and corrective actions all of which are part of our marketing philosophy, so regardless of the plant's health we have the basis of an ongoing discussion around the concept of flourishing.
Summary
Because we believe strongly in the need to measure the effectiveness of our marketing programs and report on the outcomes we know how much our client flourish.
This is the final post in this series and we hope the concepts provided show the importance of the 30-second elevator pitch and how weaving a simple message through the sales process can increase your sales conversion rate.